Berman Music Foundation 1995-2013
---
BMF donates collection to UNL
April 2013
Feature Articles
Music news, memorials, commentary
Berman Music Foundation gave joy to many
By Tom Ineck
LINCOLN, Neb.—From its inception in the spring of 1995, the Berman Music Foundation has been dedicated to bringing the joy of high-quality American music to a broader audience, in Butch Berman's hometown and far beyond.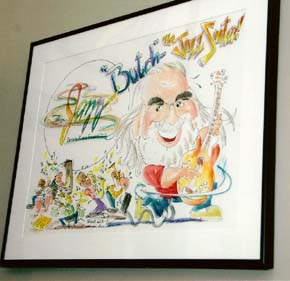 The foundation's stated mission is to "protect and promote" this music through education, philanthropy and performance. In the course of its 18-year history, the BMF has bestowed dozens of grants supporting hundreds of musicians. I will not detail them all here. Suffice it to say that you can peruse the complete list of sponsorships in reverse chronological order on the Mission page of this website.
The first beneficiaries of BMF largesse were singer Karrin Allyson and her band—and the audience at the Zoo Bar, Lincoln's premier music club to this day and one of Butch's favorite venues. It was March 1995 and Karrin was accompanied on stage by her Kansas City-based colleagues, pianist Paul Smith, guitarist Danny Embrey, bassist Bob Bowman and drummer Todd Strait.
The BMF was off and running, with three more major events in that first year. In August, Claude "Fiddler" Williams performed at the Zoo Bar with the New York All-Stars, featuring singer Kendra Shank, pianist Jaki Byard, bassist Earl May and drummer Jackie Williams. In October at the same venue, it was the Quintet of the Hot Club of San Francisco with singer Barbara Dane. Karrin returned to Lincoln in December for performances on two consecutive nights at Huey's Fine Food & Spirits, this time with Paul Smith, Bob Bowman, Todd Strait, guitarist Rod Fleeman, saxophonist Kim Park, and trumpeter Stan Kessler.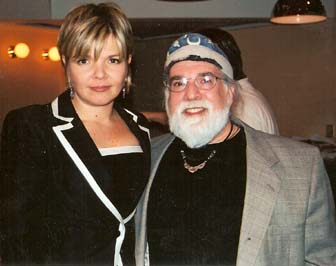 Among other local venues favored by Butch and the foundation through the years were the Lied Center for Performing Arts, the Cornhusker Hotel, the Embassy Suites, Westbrook Recital Hall, the outdoor Jazz in June concert series, the Royal Grove, the Downtown Senior Center and the now-defunct P.O. Pears, Café de Mai, Huey's, Ebenezer's and Prime Time. The BMF also funded and traveled to festivals in Kansas City, Mo., and Topeka, Kan., and sponsored occasional performances at the Brownville Concert Hall in Brownville, Neb.
But the history of the Berman Music Foundation is largely the history of Butch Berman and the many friends he gathered around him as colleagues and worthy recipients of BMF grants. It is the story of musicians Norman Hedman, Ahmad Alaadeen, Russ Long, Bobby Watson, Rob Scheps, George Cables, Jane Jarvis, Greg Abate, Claudio Roditi, Eldar Djangirov, Giacomo Gates, Joe Cartwright, and others who made repeat appearances with BMF funding. A list of these artists and others, with links to stories we wrote about them, can be found on the Artists page of this website.
The BMF story is also about the many who worked for the foundation over the years. To Butch, they were always friends first, then colleagues whose work was vital to the foundation's success. Chief among them were the hand-picked consultants (Wade Wright, Dan DeMuth, Kay Davis, Russ Dantzler, Grace Sankey-Berman, Tony Rager, Gerald and Leslie Spaits and I, pictured below before the grand opening of the Burkholder Project offices in 2009). They also included Rich Hoover, photographer, videographer, writer, driver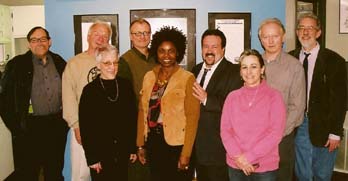 and Butch's weekly dining companion at area eateries, usually in search of the best finger-lickin' fried chicken. Susan Berlowitz was the first BMF newsletter editor, a position later filled by the multi-talented Dave Hughes, who also booked rooms for musicians, helped to get contracts mailed and signed and generally kept the BMF office running until his departure in 2002. That same year, Glennda Magner designed the rough prototype of the current BMF website. Rebecca Kaiser redesigned the BMF newsletter in 2000, a design that was largely continued until the final online newsletter was posted in October 2010. All newsletters from 1995 through 2010 are available in PDF format on the Newsletter page of this website.
Tony Rager, Dan Stogsdill, and Kay Davis of the Cline Williams law firm ensured that many of Butch's music dreams were realized without bankrupting the foundation. When Butch's appetites for music, music equipment and other entertainment got out of hand, they wisely put him on an allowance. But the relationship was always one of mutual respect.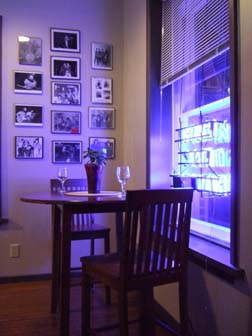 Ruthann Nahorny was Butch's valued assistant for years. Among other things, she kept his vast music collection in alphabetical order. Terry Schwimmer acted as all-around handyman, and Paul Kelly created a digital catalog of the entire BMF collection. Others too numerous to mention furthered the foundation's mission through the years.
The Berman Music Foundation recently vacated its offices at The Burkholder Project, where they were housed since 1995, first in the lower level and—since late 2008—in a large apartment on the second floor that afforded enough space for the entire collection after it was removed from Butch's house. We will miss having a "brick and mortar" presence, but the collection's new home at the UNL School of Music library will continue the BMF tradition of sharing the joy of music. The official UNL news release on the donation and a nice Omaha World-Herald editorial on the gift are posted below. Unfortunately, the hometown Lincoln Journal Star chose not to cover the story.
This website will continue as an archive of the foundation's first 18 years. The Feature Articles pages contain music news, artist interviews, commentary, memorials and other stories. The Performances pages feature reviews of concerts, festivals and small club shows. Butch Berman, Rich Hoover, Bill Wimmer, and I wrote hundreds of jazz and blues CD reviews, which can be found on the CD Reviews pages. In addition, I wrote reviews of 26 classic recordings which are posted on the Essential CDs pages. Of course, Butch's one-of-a-kind musings on many subjects can be found on the Prez Sez pages. His last was posted in January 2008, the month he died. Butch's 44-year professional music career is detailed on the Rock 'n' Roll page, complete with vintage photos and comments by Butch.
BMF trustee Tony Rager, Butch's widow and soul mate Grace Sankey-Berman and the rest of the BMF consultants offer their personal tributes below. We also offer a memorial to Kay Davis, who died in February. May the music never end.
---
18 years on, Berman foundation turns a page
By Tony Rager
Trustee, Berman Music Foundation
LINCOLN, Neb.—Eighteen years ago, I sat in a conference room and watched Butch Berman sign the documents that created the Berman Music Foundation. There have been 18 years of wonderful memories and amazing music. We've worked with incredible musicians and devoted fans of all forms of music.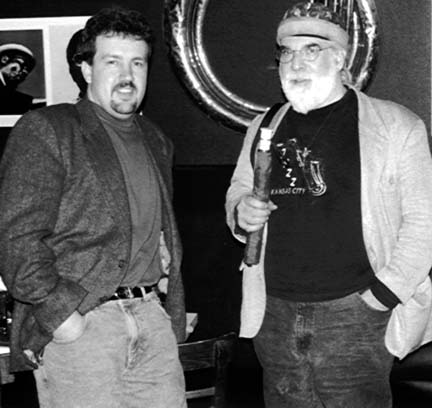 The Berman Music Foundation is not going away. We are turning the page on a new chapter. Butch passed away five years ago and, as I wrote then, his vision and his spirit will continue. His legacy will have many chapters.
Due to financial constraints, the BMF will refocus the direction of its mission. As many of you know, the foundation recently donated its extensive music collection, photographs, posters and literature to the University of Nebraska-Lincoln School of Music library. This donation will continue the mission of the foundation to promote and protect unique forms of music.
Butch always wanted music to be heard and felt. Now, new generations of artists, scholars and fans will have the opportunity to enjoy the collection. Music that truly is unique and deserves preservation is available to thousands of people for study and enjoyment at an institution that recognizes the importance of the foundation's mission.
This website will continue to exist and will help preserve the history that is the foundation.
So, we continue into the future. Turn the page with me and let us begin the next chapter in the Berman Music Foundation…may the music never end.
"Music is forever; music should grow and mature with you, following you right on up until you die." – Paul Simon
---
Foundation continues "the gift of music"
By Grace Sankey-Berman
Consultant, Berman Music Foundation
LINCOLN, Neb.—Butch always said "the best gift is the gift of music." For most of his life, he set out to share music with anyone who would listen, and he succeeded. The Berman Music Foundation was the perfect vehicle for his passion for music.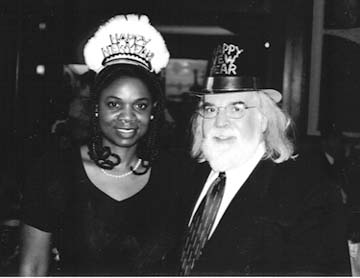 He got a lot of joy and satisfaction in sponsoring concerts and bringing great musicians to Lincoln. Some of my favorite music experiences were the jam sessions in Butch's basement with musicians like pianist George Cables and Butch's great friend the late drummer Norman Hedman. We took in great jazz in Kansas City's steak houses, The Blue Room, Jardine's and countless other venues. I will never forget a riveting performance by the vocalist Carmen Lundy and her band in a New York City steak house. That was the typical music experience with Butch.
I am grateful for the time I had with Butch. He enriched my life with great friends who have been of great help and support over the years. I want to especially say thank you to the BMF consultants who annually traveled to Lincoln from across the nation, communicated through countless e-mails and phone calls, and shared their wisdom and ideas on how to move the BMF forward.
Kay Davis worked closely with Butch on a variety of projects and day-to-day activities. She coordinated travel, accommodations and meetings for board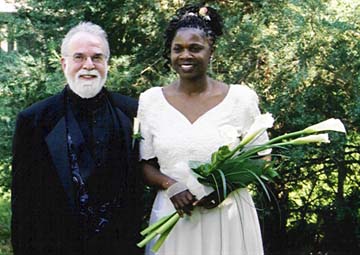 members and musicians. Wade Wright's extensive knowledge of records and unconditional friendship were invaluable. Dan Demuth, a record collector himself, also shared his extensive knowledge and quiet, but steady leadership. Russ Dantzler, a jazz promoter and advocate in his own right, helped to shape the direction of the foundation. Gerald Spaits, the great jazz bassist from Kansas City, provided the perspective that only a working musician could. His lovely wife Leslie was also a great supporter of BMF. Your individual and collective contributions were essential to the success of the BMF.
Tony Rager, trustee of the BMF, has worked tirelessly for the foundation since its inception in 1995. The foundation has gone through a few changes over the years, but Tony has always been a constant presence that we can count on. I want to thank you for your friendship and for ensuring that Butch's legacy will continue to serve Lincoln far into the future. Thanks to Laura Oliva, Tony's assistant, for all the support work that she does.
I want to say a special thank-you to Tom Ineck, editor of the Berman Music Foundation newsletter. Over the years, he has put out a great newsletter, which Butch called "the best bathroom reading around." That newsletter was and remains the heart of the foundation. Tom reported on music and events that were not always available in mainstream news outlets. His extensive knowledge of music and the arts makes him a great reporter and educator. Because Tom shared Butch's love and passion for great music, he understood Butch's vision and wishes for the Berman Music Foundation. I want to thank him for his loyalty, for being a great advocate and promoter for the foundation. I look forward to working with him to ensure that the collection continues to serve as many people as possible.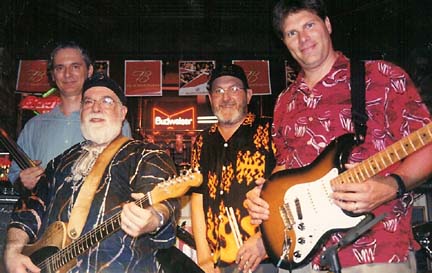 Thanks also go to the Lincoln community for its support. One of the things that brought Butch great joy was bringing music talent to Jazz in June. He believed in music democracy and wanted everybody to enjoy great music without having to worry about cost. Local musicians and the arts community were also very supportive—Ed Love, Bill Wimmer and The Cronin Brothers are a few that come to mind. Anne Burkholder, a great artist and our landlady for 18 years at the Burkholder Project, was always gracious. It was a great space for our office and we hated to leave. Thank you, Anne.
Great people coming together to share, promote, enjoy and make great music—that is what the Berman Music foundation has meant to me. May the music never end.
---
BMF gave purpose, voice to Butch's nature
By Wade Wright
Consultant, Berman Music Foundation
SAN FRANCISCO—I was there at the start of the Berman Music Foundation in 1995 and was not overly optimistic in those early days. Butch had two natural inclinations–-to make music and to make trouble. These were not incompatible traits but they did not make life with Butch easy. When the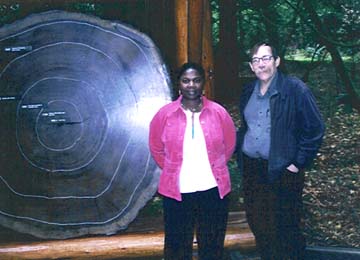 opportunity to establish the foundation became possible, I frankly thought it would last a year.
But as purpose was established for the foundation, it began to give purpose to Butch. The musician part took over and his entire life started to make sense to him. The enthusiasm that he felt as a player became something that he wanted to share. The BMF gave that a voice and a world of possibility.
Not that the troublemaker in Butch went away. I listened to his many rants because it was so hard for Butch to understand why everyone else didn't see it just his way. This softened over time and I'd like to think that his determined effort to bring music into his community was so rewarding that it overcame the smaller parts of those moments.
Butch was diligent as a musician. He never stopped practicing or playing, and applied this ethic to the foundation as well. We all joked that he was the busiest unemployed person we knew. Horizons were always expanding with ideas and relationships, be it new records, new ideas, new friends or new songs. The foundation became the best part of Butch.
And this is also why the foundation must decline. Without the energy and drive that Butch brought to it, the primary engine is gone. The pivotal collection that he acquired over his lifetime will continue to provide inspiration. The memories we collectively share of music and good times will remain as well.
This is the BMF legacy that will prevail and I believe Butch would be proud of it all. My thanks go to my fellow consultants for great effort and concern and to everyone that contributed to that effort. And to Butch, for his friendship through it all.
---
BMF filled local live music void for 18 years
By Dan DeMuth
Consultant, Berman Music Foundation
PUEBLO WEST, Colo.—Here are a few thoughts on being a member of the advisory board of the Berman Music Foundation, some bittersweet but most in a positive vein.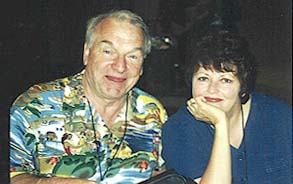 For a period of time while serving on the BMF board, I also served as an elected board member with the Pikes Peak Jazz and Swing Society (PPJASS) in the Colorado Springs area. This is a dues-paying organization of some 500-plus members with a monthly payment to attend a jazz outing. Additional donations from members also help PPJASS in its mission.
Occasional outside donations to the BMF were almost a curiosity.
A comparison of the two organizations reveals some correlation. While the BMF focused on bringing major jazz artists to Lincoln and, when possible, sponsoring student workshops with those artists, the PPJASS focuses on using local professionals to provide the entertainment while occasionally bringing in major artists to perform. Any profit from these pay-to-see performances help augment expenses, which include providing scholarships to local young students wanting to further their pursuit of a jazz career. These students have to compete in literal play-offs in front of the professionals for that honor. Perhaps there is something in that mix that can be carried on in Lincoln and its environs.
With Butch's mercurial personality, I witnessed some mutual ego-bruising and rhetorical shin-kicking in his relationships with other players on the local music scene. That's probably the norm anywhere, and Butch had just enough bocce equipment to pull it off. Regardless, the final results were certainly beneficial to the local jazz community, both players and fans. Elsewhere on this website, Tom Ineck notes the BMF's sponsorship of numerous events enriching the local scene. The reader might want to take a moment to ponder the void that would have been without it.
And now the coda, the last gig. Turn out the lights, the party's over. I will miss the personal contact and ideas shared at our board meetings with Gerald and Leslie, Grace, Kay, Laura, Rich, Russ, Tom, Tony and Wade, the discussions of what had been accomplished and what might come to be. Others on the periphery also helped in many ways. I'm looking forward to some type of continual relationship with all. With deference to our founder, it's been a gas.
Goodnight, Butch.
---
Butch Berman was a champion of music
By Russ Dantzler
Consultant, Berman Music Foundation
NEW YORK CITY, N.Y.—When asked to write about what the Berman Music Foundation has meant to me, I shared the same question with jazz singer Karrin Allyson.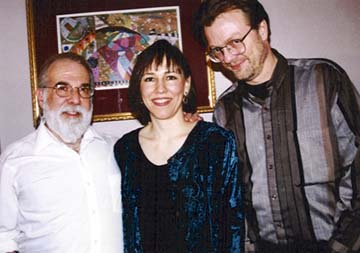 "I was very fond of Butch and his unique, enthusiastic approach to presenting music," she said. "I know he loved it very much, and I so appreciate his support of me and my music from very early on. He went far too early, but his legacy will long be remembered and loved."
Karrin helped to reinforce something I wanted to say. Musicians and the non-commercial music that moves our hearts require our support. Whenever you buy a CD, pay a cover, or buy a meal or drink in a club with live music, you are part of the survival of those performing artists. Butch Berman did even more. Butch helped to raise Karrin, Norman Hedman, Kendra Shank, Bobby Watson and other great musicians a notch in their careers, as Karrin attests. He created gigs that exposed new audiences, supported recordings that never would have happened, backed up his heart with his wallet, and shared that with all of us.
Leaving too soon indeed, Butch left us, his consultants, with the responsibility of helping musicians all that we could. A crashing stock market shortened a mission we all wished could have gone on for decades. Consultants had the difficult task of placing the collection in good hands.
At first, we wished it could have gone to KZUM, Lincoln's community radio station, but we wanted it to be safe and accessible for all, especially for the best radio station, by far, in Nebraska for the long run, no matter what might happen to broadcast media. UNL's School of Music Library seemed the best guarantee of safety and accessibility for music students in perpetuity. The collection will help music students have access to musicians they would otherwise not be exposed to. Butch will continue to spin things for people that he knows will surprise and delight them.
I am truly grateful for having had the opportunity to help Butch help our heroes. May the music that the Berman Music Foundation supported never end.
---
Chance encounter led to musical connections
By Gerald and Leslie Spaits
Consultants, Berman Music Foundation
KANSAS CITY, Mo.—You never know how an encounter with someone you meet will influence you.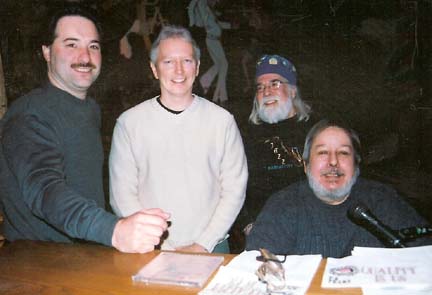 While performing at the Topeka Jazz Festival one year, during a dinner buffet, I found myself standing next to Butch Berman. I had seen him around and heard he had a music foundation. He was, indeed, an original. We struck up a conversation, discovered we had much in common, and became good friends. It was like that with Butch. He met people and formed instant lifelong connections and remained a loyal friend.
Butch sought out music and musicians he liked and worked to help and support them. He was instrumental in helping me put out two CDs by the late Russ Long, our good friend and, in my opinion, a Kansas City jazz legend. We shared one of the most memorable events together when we performed a concert of Russ' music at Jardine's shortly before Russ passed away. The entire KC jazz community packed the place. It was an emotional evening for everyone. Butch's support in helping bring the music of Russ Long to CD and being able to perform his arrangements meant so much to Russ during his final months.
There were other projects Butch and the foundation helped with—The Westport Art Ensemble CD and release party and booking many Kansas City jazz acts in Lincoln and elsewhere.
We were pleased when Butch asked my wife Leslie and me to be on the Berman Music Foundation board of directors, which we have both enjoyed being on and working with everyone on it. We've met a lot of new friends through Butch and the foundation and are both grateful for that.
It is sad to see the newsletter go. I know Butch put a lot of time and hard work in every issue and Tom has done a great job with it. We are glad to see the bulk of his collection go to the University of Nebraska-Lincoln, where it will be preserved and will have an influence on future musicians.
---
BMF history inextricably linked to its founder
By Tom Ineck
Consultant, Berman Music Foundation
LINCOLN, Neb.—The history of the Berman Music Foundation is inextricably linked to the spirit of its founder and guiding light. Butch Berman was a force to be reckoned with—as a musician, as a record collector, as an irrepressible raconteur on many subjects, as a hedonist with a huge appetite for life, and as a devoted patron of the arts. For Butch, if it was worth doing, it was worth doing well and with every particle of his being.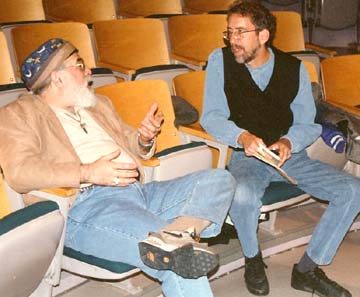 Inevitably, his death on Jan. 31, 2008, had a huge impact on the future of the BMF. The foundation had forever lost the eccentric genius that gave it a singular purpose and direction. Those of us who remained to pick up the pieces—trustee Tony Rager, Grace Sankey-Berman and the rest of the BMF consultants, friends and fans—have done the best we could to carry on in Butch's spirit in the five years since his passing. Admittedly, it hasn't been as interesting or as much fun as when our leader still walked the planet.
Since 2008, tens of thousands of dollars were given in grants to projects deemed worthy of foundation support, from the Jazz in June concert series to a collaborative project with the UNL School of Music and NET Television to produce the concert video "Jazz Cabaret," featuring UNL jazz faculty and filmed at the NET studio. Other grants went to the Nebraska Jazz Orchestra, the Capitol Jazz Society and Lincoln's Symphony Orchestra. The last resulted in a wonderful live recording with the Joe Locke Quartet, released in 2012.
Now that the BMF collection has been donated to the UNL School of Music library and the doors of the foundation offices have closed after 18 years at The Burkholder Project, our attention turns to the hope that Butch's spirit will live on in the educational potential of the collection's new institutional home. At some point a little farther down the road, perhaps we can update you on that new setting and the ways in which the collection is being utilized by music teachers and students.
In retrospect, I can truly say that my "work" with the Berman Music Foundation since I began writing for Butch in early 1996 has been the best job I've ever had. Or, as Butch would say, it's been a gasser!
---
Kay Davis was instrumental in BMF success
By Tom Ineck
The story of the Berman Music Foundation is largely the story of Kay Davis and her devotion to Butch's legacy and the BMF's mission to preserve and promote unique forms of American music.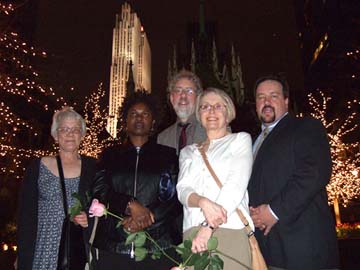 For many years the administrative assistant to Tony Rager—the foundation's "legal eagle" and eventual trustee after Butch's death in January 2008—Kay helped to shepherd the multifaceted business of running a charitable and education foundation. But she also invested personally in the quality and success of its programs and publications. BMF board members and friends can relate many stories of her kindness, good humor and attention to detail in faithfully carrying out her duties for the foundation.
Kay Davis, 69, died Feb. 23, at her son Jason's home in Fayetteville, Ark. She had moved to Arkansas in 2008, retiring from the Cline Williams law firm to spend more time with her family, especially her young granddaughter, Nina.
Lorraine Kay (Swick) Davis was born Dec. 15, 1943, in Aurora, Neb. A 1962 graduate of Nebraska City High School, she later moved to Lincoln, where she was active in many organizations, including the Downtown Lincoln Association, the Downtown Neighborhood Association, American Businesswomen's Association, and the Preservation Association of Lincoln. A champion of downtown Lincoln, she frequently patronized the city's eateries, coffeehouses and live music venues, especially the world-renowned Zoo Bar.

Kay's work with the Berman Music Foundation was especially near and dear to her. She was committed to the BMF's presentation and promotion of live music wherever it could be staged. As Grace Sankey-Berman notes in her story above, Kay coordinated travel, accommodations and meetings for board members and musicians. She drew up an impressive chronological list of BMF grant programs and other sponsorships that is posted on the Mission page of this website. As a proofreader for the foundation's newsletter and online updates, she was a stickler for detail, often finding errors in spelling, grammar and syntax that this writer had overlooked. In deliberations with trustee Tony Rager and the foundation's board members over the last couple of years, she worked diligently to find ways to keep the BMF going.

The death of Butch Berman, preceded by the illness and death of her son John Anthony Davis in Seattle, was a double blow to Kay and precipitated her retirement and her move to Arkansas. She was a sensitive woman who knew the importance of family and of living life to its fullest. She will be joyfully remembered and sorely missed by all at the Berman Music Foundation.

Kay's survivors include sons Jason and his wife Donna of Fayetteville, and Michael Davis and his wife Lynn Ann Kister of Seattle, Wash., and daughter-in-law Kelly Walker of Seattle.

A celebration of life for Kay will be held in Fayetteville and Lincoln at dates yet to be announced. Contributions to install a memorial bench in Kay's honor in Lincoln can be sent to Donna Davis, 12055 W. Double Springs Road, Fayetteville, AR 72704.
---
University of Nebraska-Lincoln news release
BMF donates collection to UNL's Music Library
Released Monday, Jan. 14, 2013
University of Nebraska-Lincoln Libraries announced today the donation by the Berman Music Foundation of thousands of CDs, LPs, and DVDs of jazz and rock music to UNL's Music Library. The collection's primary focus is jazz, with additions of rock music, recordings of Butch Berman's KZUM radio show, and videos of live performances from Lincoln venues. Many materials in the collection are out of print and can't be found on the open market.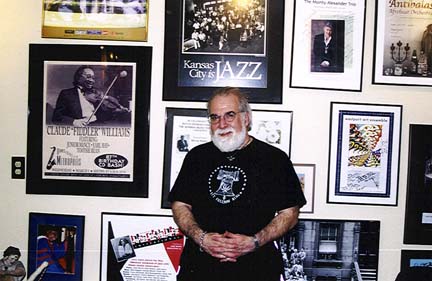 "The University of Nebraska-Lincoln's Music Library is honored to receive this special collection, which will be maintained, preserved, and expanded upon," said Anita Breckbill, music librarian and university libraries professor.
According to Breckbill, the donation was made at the most opportune time. The School of Music added two new advanced degrees in jazz studies—master of music and doctor of musical arts—and the collection will provide vital scholarship to the students working on these degrees.
Nancy Busch, dean of libraries, says that UNL students' success depends on UNL alumni and Nebraska community members' support of library collection growth with either donations of collections or money to purchase new materials.
"We are grateful for the Berman Foundation's generosity with the donation of this collection, especially in light of the new jazz studies program. The only way we can ensure the students' success is if we have collections such as the Berman collection for their study and research."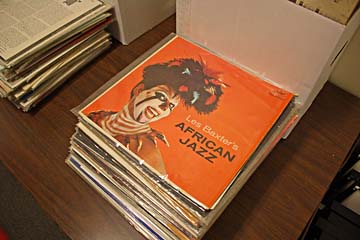 Scott Anderson, professor in the School of Music, said he sees the donation as a wonderful asset for the Music Library and believes it has even greater impact for UNL students. Anderson explained that the freshman class of 2012 was born in 1994, and most students, if not all, may have never heard the music, or musical groups found in the Berman collection.
"I can't wait for my students to discover and experience some of the live performances on DVD," he said.
Anderson also said he is thinking about developing an honors course focused on the vibrant rock scene from the 1970s and 1980s Lincoln, which is reflected in the live performance recordings.
The rich collection was fostered by Byron L. "Butch" Berman (1949-2008) over his lifetime and became part of the Berman Music Foundation, which he established in 1995. The mission of the foundation, according to its website, is "to protect and promote unique forms of American music."
Anthony M. Rager, a trustee with the foundation, said entrusting UNL's Music Library with this special collection will fulfill the foundation's mission. Rager said he is excited that the next generation of students will be learning from the collection and discovering music new to them. He personally knew Berman and described him as passionate about all aspects of music.
"I hope the student musicians discover pieces in the collection that inspire their imaginations and influence them to create something new," Rager said.
The Berman collection was moved from the Burkholder Project in the Haymarket area to the UNL Music Library, located in Room 30 at Westbrook Hall on UNL's City Campus. Items in the collection will be available for check out and KZUM, Lincoln's community radio station, has been given permission to use the collection for on-air play.
UNL's Music Library is one of the busiest in the system—second to Love Library in traffic and check-out numbers. For more information, visit http://libraries.unl.edu.
---
BMF donation jazzes up Lincoln and UNL
Published Saturday, Jan. 19, 2013
The jazz program at the School of Music at the University of Nebraska-Lincoln received quite a gift when the jazz collection of Byron L. "Butch" Berman was added to its music library recently—and so did the city of Lincoln.
Berman, a Lincoln jazz and rock musician who died in 2008, had a tremendous compilation of CDs, LPs and DVDs of jazz and rock, which has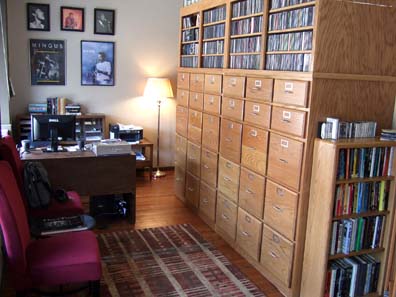 been handled by the Berman Music Foundation. It offers "a history of the rock 'n' roll music scene that happened in Lincoln," said professor Scott Anderson. "I didn't know there was that much of a history ... within this city, but there is."
Reflecting Berman's interest, the foundation emphasizes education. His "gem of a collection, ... one of a kind," according to foundation spokesman Tom Ineck, parallels his "eclectic and idiosyncratic" musical taste and includes other musical styles such as R&B and big band recordings.
The collection is particularly important to the music school because of its growing jazz emphasis and the recent addition of two advanced degrees in jazz studies. The school is becoming known for its jazz program: Karl Lyden of Omaha, a senior music performance major, was named the Undergraduate College Winner for Original Composition Orchestrated Work. He won the prestigious award for his composition "Downside Up" at the Downbeat Magazine Student Awards last spring.
UNL also notes that the music school's Jazz Ensemble I, directed by associate professor Paul Haar, won Undergraduate College Outstanding Performance honors in the large jazz ensemble category at the awards ceremony.
The Berman collection is a wonderful resource for students and a fine addition to the city of Lincoln's history. The Berman foundation deserves the thanks of jazz lovers everywhere for its contribution.
---
Editor's Note: There is an archive of BMF newsletters at this website in PDF format. Just click here: Newsletter
---